Ensuring Safety in the Food & Beverage Industry through Training and Certification
Training the future for the Hospitality Industry
A la Carte Server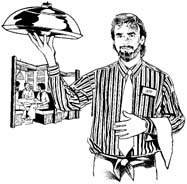 Great food isn't enough to make an outstanding dining experience. That takes great service, as well. To ensure that servers provide service that exceeds guest expectations they must be properly trained. Servers should use suggestive selling to enhance the guest's visit; properly prepare and serve beverage orders; take accurate orders and use good service skills to present the meal; follow up and respond to guest complaints.
Active member of the following organizations:
TrainingByKash
We offer On-Site training State-Wide at your location at a time that is convenient for you.
ORLANDO AREA (407)467-1659 - BREVARD AREA (321)637-3309
Certification@TrainingByKash.com
Please report problems with this website to webmaster@TrainingByKash.com